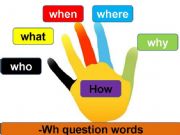 As wh-questions são perguntas que começam com determinadas partículas de significado próprio. O seu uso é bastante comum na língua inglesa.
O pronome interrogativo WHO sempre refere-se a pessoas e significa QUEM
O pronome interrogativo
WHERE
refere-se a localização, lugar e significa
ONDE
, AONDE
O pronome interrogativo WHAT é utilizado em perguntas referente ao sujeito e significa
QUE, O QUE, QUAL
What is your phone number?
Leia o diálogo abaixo e veja os exemplos:
Jeff: What's your name?
Joane: My name's Joane Miller.
Jeff: Nice to meet you. My name is Jeff Bright.
Joane: Nice to meet you too.
Jeff: Where are you from?
Jeff: (ahaha) Where is London, then?
Joane: Oh, sorry! I'm from London-Ontario.
Jeff: So you are Canadian!!
Joane: Yes, I am. And where are you from?
Jeff: I'm from New York. I'm American.
Jeff: I'm 23 years old. And you?